For more than 30 years East Rugby has fielded Varsity, Junior Varsity, and 8th/9th/10th Grade teams in 15s and 7s. All 8th-12th graders in the Denver area are welcome, no prior rugby experience is necessary.
We believe rugby empowers our kids to achieve their highest potential in sport, and more importantly, in their lives. In addition to support on the field, East Rugby strives to support both players and their parents off the field.
To find out more, contact coach Bill Baer or sign up on TeamApp.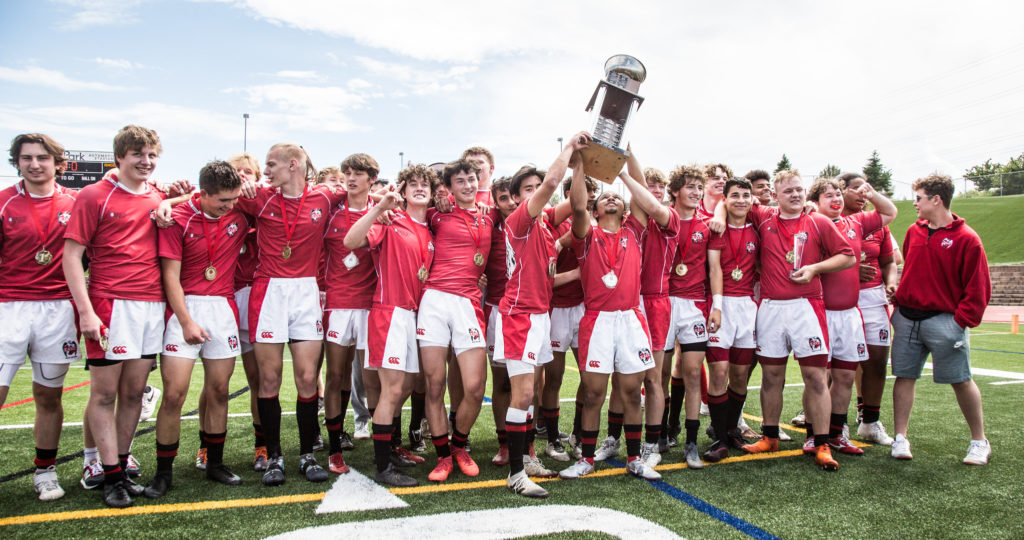 Schedule
Our 15s season typically runs from January to May with practices 4 days a week and matches on Saturdays. Our 7s season typically runs from September to October with practices 2 days a week and tournaments on Saturdays.
Community
More than a team, East Rugby is a vibrant community. We pride ourselves on our Team and Family Dinners, MLK Volunteer Events, and Leadership Opportunities.
Tour
East Rugby has gone on an out-of-state rugby tour since 1997. These trips challenge our players and build our team dynamic. Parents are also encouraged to attend, in recent years we've taken as many adults as players!
Scholarships
East Rugby proudly provides scholarships based on commitment, not athletic ability, so that every kid has a chance to play regardless of their financial situation. Scholarships are also available for our annual Tour.
Parent Organization
We enjoy extensive support from the players' parents and families. Parent committees take care of the fields and equipment, merchandising, tour planning, team booklet, website, photography, sponsorships, fundraising, end-of-season party, awards, and – last but not least – cheering.
Champions
East Rugby has won 8 Colorado State Championships in 1997, 2002, 2004, 2009, 2015, 2018, 2021, and 2022. We have had 7 players represent the USA as High School All-Americans and 1 player on the USA National Team.
We are an inclusive, player-centric organization and we measure success through our growth. We treat our entire community with respect and we approach competition as an opportunity to improve. We embrace challenges and support each other. We are honest and hold ourselves accountable. We are grateful for the time we get to spend together.
Coaches
East Rugby is incredibly lucky to have a large, talented group of volunteer coaches. With a low coach-to-player ratio, we can provide focused, specific coaching while supporting three teams with a wide range of experience and skills.
Bill Baer (Head Coach & General Manager)
Max Brehm*
Alex Hoskin*
Cody Hoksin* (Head of Development)
Steve Gore* (Director of Coaching)
Andy Gray*
Zach Levek*
Terry McCoy* (Head Defense Coach)
Aaron Miripol
Mark Musselman
Liam Peck*
Joe Ranalli (Head Attack Coach)
* Former East Rugby player